Standard Salt Fog Cabinets
Salt Fog Cabinet
The Auto Technology Company Standard Salt Fog Cabinet is the basic unit that has served the testing community for over 50 years. Constructed of steel and utilizing a water jacket temperature control system these units are designed to provide the user a robust, simple design to handle the traditional test specifications like ASTM B117 (Salt Fog), Mil-Std-883, Method 1009.5, G85 A1 (Acetic Acid), B368 (Cass), Mil-Std 810D, Method 509.2, and more.
All Auto Technology Salt Fog & Humidity chambers come standard with the following features. They are included in the base price of the chamber. Additional options can be purchased to customize a chamber for your specific needs.
Standard Salt Fog Test Equipment Base Cabinet:
Interior lined with inert white PVC sheet lining. Exterior painted with blue finish coat. Smoke-grey transparent PVC lid with gas-cylinder lifting (Models 24 & 410 are equipped with Air-cylinder lifting). Cabinet is heated by a water jacket on all four sides and the bottom. Electrical enclosure, pilot lights, selector switches and wiring components to comply with NEMA 12 standards.
Standard Salt Fog Test Equipment Base Cabinet Includes:
DIGITAL TEMPERATURE CONTROLLERS for cabinet and Humidifying tower temperature. Accuracy +/- 1 degree F. (Certification included.)

Wet and dry bulb digital temperature display.

Plexiglas humidifying tower with aerator, relief valve and heater.

Low-water cut-off protection on humidifying tower heater. Heater turns off in the event of a dry condition.

Over temperature protection on ALL heaters.

Combination oil and water extractor and air regulator.

Plastisol-coated support racks. (number dependent on chamber size)

Three plastisol-coated support bars.

Installation and operation manual.

Collector funnels, 80 sq. cm. (number dependent on chamber size)

Graduated cylinders, 100 ml. (number dependent on chamber size)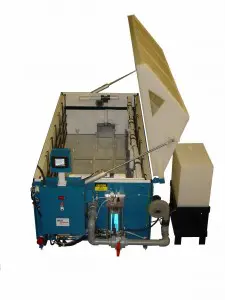 Unifog Dispersion Tower:
(U.S. Patent Re-25932)
Complete with adjustable cone for uniform collection rates, Salt spray atomizer nozzle, internal reservoir with cover, pick-up tube and filter assembly. (number dependent on chamber size) For condensing Humidity, atomizer nozzle dispenses DI water mist.
ATO-Fill System: (New and improved solution feed system)
Complete with bubble tower automatic feed system for direct DI water feed into the Bubble tower from customer supplied plant DI water.

Also includes the Auto Technology 55 gallon mixing and storage tank that feeds directly into the internal chamber reservoir for longer unattended testing time.

Traditional Level Control system is available as an option in place of this system. See page 9 for a description of this item.