Walk In Salt Fog Corrosion Test Equipment
The Auto Technology Company Standard Salt Fog Cabinet is the basic unit that has served the testing community for over 50 years. Constructed of steel and utilizing a water jacket temperature control system these units are designed to provide the user a robust, simple design to handle the traditional test specifications like ASTM B117 (Salt Fog), Mil-Std-883, Method 1009.5, G85 A1 (Acetic Acid), B368 (Cass), Mil-Std 810D, Method 509.2, and more.
All Auto Technology Salt Fog & Humidity chambers come standard with the following features. They are included in the base price of the chamber. Additional options can be purchased to customize a chamber for your specific needs.
Auto Technology offers Walk In Salt Fog Chambers to provide an option for test larger samples. These spacious chambers allow us to offer our customers a wide range of testing capabilities. We offer a wide range of sizes but typical sizes would be 10′(long) x 6′ (wide) by 10′ (high) , 10′ X 7′ X 10′ , 10′ X 10′ X 10′.
Standard Features Include:
Interior and exterior shell painted with corrosion resistant primer and a topcoat of polyurethane enamel.

Adjustable temperature range.

Inner shell is constructed of mild steel and lined with inert PVC sheet lining. Ceiling of inner shell sloped (as per the ASTM B 117 specification) to prevent condensation from dripping on specimens.

External panels of chamber will be removable for inspections.

The floor of the chamber is protected with non-deteriorating rubber or plastic floor matting.

Either a single door or dual doors (depending on size of chamber and specifications of customer).

Above the door is a hood to capture fog and heat leaving the chamber as the door is opened.

PC based control system with integrated datalogging.

The Chamber includes horizontal dispersion tubes installed on each side of the chamber along the length dimension at the junction of the peaked roof and walls. Assembly includes 5 sets (10 in total) of atomizer nozzles on each chamber side-wall, tubing and fittings for constant fog generation. The nozzles fog up toward the horizontal tube providing for properly baffling inside the vertical pickup section and the 90 degree turns at the "t". This double baffle inside the pickup and the horizontal tubes as per provides proper baffling as described in ASTM B117 to prevent any "spitting" of large droplets out of the dispersion system. This baffled system ensures an even and fine fog distribution throughout the entire chamber. This horizontal system will also free up space on the side-walls of the chamber which increases the testing space.

The dispersion tubes are fed through tubing and connected to an external 95 gallon solution tank with swivel lockable casters. Tank includes cover, pump, filter, air agitation assembly, air regulator and gauge and automated D.I. fill. Tank provides constant solution to atomizer nozzles. This tank is also equipped with a combination volume marker and overflow tube. This will indicate solution volume and protect against water overflows during filling.

System includes a humidifying tower with an immersion heater controlled by the PC based computer control system and (certified) pressure gauge. The humidifying tower is connected to a customer supplied water D.I. source and automatically fills when needed. This system is automated for constant level control. Heater includes low water cutoff protection. Heater contactor will be solid state with a mechanical contactor for safety shut down.
Heating elements are located outside of the chamber in a heater plenum. Hot air is circulated around the chamber's exposure zone through a 4″ space between the inner and outer shell. These heaters will be controlled the PC based computer control system. Elements are easily removable for maintenance. Heater contactors will be solid state with a mechanical contactor for safety shut down.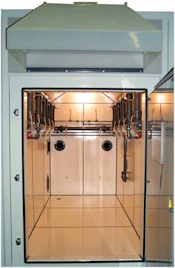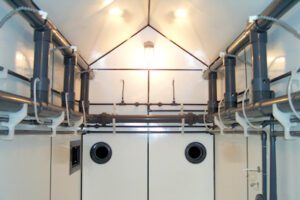 Interior lined with inert white PVC sheet lining. Exterior painted with blue finish coat. Smoke-grey transparent PVC lid with gas-cylinder lifting (Models 24 & 410 are equipped with Air-cylinder lifting). Cabinet is heated by a water jacket on all four sides and the bottom. Electrical enclosure, pilot lights, selector switches and wiring components to comply with NEMA 12 standards.
DIGITAL TEMPERATURE CONTROLLERS for cabinet and Humidifying tower temperature. Accuracy +/- 1 degree F. (Certification included.)

Wet and dry bulb digital temperature display.

Plexiglas humidifying tower with aerator, relief valve and heater.

Low-water cut-off protection on humidifying tower heater. Heater turns off in the event of a dry condition.

Over temperature protection on ALL heaters.

Combination oil and water extractor and air regulator.

Plastisol-coated support racks. (number dependent on chamber size)

Three plastisol-coated support bars.

Installation and operation manual.

Collector funnels, 80 sq. cm. (number dependent on chamber size)

Graduated cylinders, 100 ml. (number dependent on chamber size)
Unifog Dispersion Tower:
(U.S. Patent Re-25932)
Complete with adjustable cone for uniform collection rates, Salt spray atomizer nozzle, internal reservoir with cover, pick-up tube and filter assembly. (number dependent on chamber size) For condensing Humidity, atomizer nozzle dispenses DI water mist.
ATO-Fill System: (New and improved solution feed system)
Complete with bubble tower automatic feed system for direct DI water feed into the Bubble tower from customer supplied plant DI water.

Also includes the Auto Technology 55 gallon mixing and storage tank that feeds directly into the internal chamber reservoir for longer unattended testing time.

Traditional Level Control system is available as an option in place of this system. See page 9 for a description of this item.
Auto Technology also offers custom shelving for walk-in corrosion chambers. Below is an example of a typical shelving unit. This 72″ tall rack is made of HDPE polyethylene with four perforated shelves that can be adjusted for height. There are three different shelf depths, 24″ , 16″ and 11″.